BE PREPARED FOR ANY EMERGENCY.
A GUIDE TO GETTING STARTED WITH YOUR DISASTER PREPAREDNESS PLAN.

April 23, 2014. Today's 6.7 magnitude earthquake, striking off the coast of Vancouver Island's Port Hardy, serves as a reminder to be prepared. In an emergency it may not be possible for emergency workers to reach you right away. We should all be able to care for ourselves and loved ones for a minimum period of 72 hours.
Luckily, getting prepared has become significantly easier. Try starting with the Government of Canada's free download, "Your Emergency Preparedness Guide":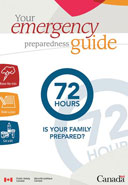 Once you've got the basics ready, customize your plan and supplies to suit your needs. And please don't forget to prepare for your pets!
If you have any comments or suggestions please leave a post.